RAFF-E
Nowa generacja żaluzji raffstore
RAFF-E
Nowa generacja żaluzji raffstore
RAFF-E
The RAFF-E from ALUKON is a Venetian blind of the future. A modern solar shading system that has been designed and developed with a great deal of technical product knowledge and needs no extensive technical expertise for measurement and installation. The slats package, for example, is already integrated in the box. The guide rails have only to be attached and mounted at the front of the window. This considerably reduces the time required on site.
This special external Venetian blind is as simple to use as a front-mounted Venetian blind and yet much more complex and larger in area coverage, similar to a Venetian blind façade solution.
The RAFF-E integrates aesthetically into the façade design and at the same time allows the living space to bathe in cosy light. The daylight can be individually and almost seamlessly adjusted for glare-free enjoyment. By reflecting the sunlight, the RAFF-E creates a pleasant room climate and thus saves costs for room cooling. At the same time, an external Venetian blind satisfies the desire to maintain and protect privacy whilst at the same time allowing views of the garden or street.
All three box sizes can also be equipped with integrated insect protection. This is placed on a spring shaft in the box behind the plate stack and is immediately ready for use if required. During the winter months, the insect protection roller blind is kept out of sight and protected in the box.
ZALETY RAFF-E
Oversized measurements can be taken without in-depth technical product knowledge (the clearance opening dimensions = the element size required)
Quick and easy installation thanks to plug-on system
High-quality aluminium Venetian blinds
Design options with ALUKON's range of colours
Możliwości montażu
W ościeży jako widoczna skrzynka, w ościeży jako skrzynka z nośnikiem tynku, na elewacji, jako montaż szybowy lub na elewacji z przekładką.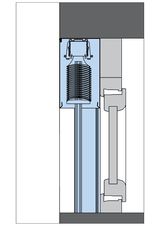 Przemyślane szczegóły
The Venetian blind box has both technical and visual benefits. The colour design can be chosen from ALUKON's range of colours. Due to the concealed panel fixing, no screws or rivets are visible on the front. The side of the box is flush with the guide rails, creating a seamless look with no annoying details. The rain-proof aluminium guide rail can be easily plastered over.