Vorbau-Raffstore
Installation in front of the window
Vorbau-Raffstore
Installation in front of the window
Vorbau-Raffstore
You can combine shutters, textile sun protection and external Venetian blinds on your façade with our front-mounted products. In this way, you have the opportunity to adapt the blinds to the needs of each living room using identical looking boxes.
The daylight can be individually and almost seamlessly adjusted using external Venetian blinds for glare-free enjoyment. The reflection of the sunlight creates a pleasant indoor climate at the same time, which in turn reduces the costs needed for room cooling. At the same time, an outdoor Venetian blind satisfies the desire to maintain and protect privacy whilst at the same time being able to see outside.
All ALUKON front-mounted boxes can also be equipped with an integrated insect protection. This is placed on a spring shaft in the box behind the plate stack and is immediately ready for use if required. During the winter months, the insect protection roller blind is kept out of sight and protected in the box.
Montagemöglichkeiten
In der Laibung als sichtbarer Kasten oder auf der Fassade.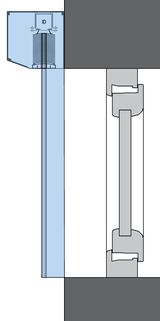 Kastenformen
The extruded aluminium boxes are available in various box shapes. The colour design can be chosen from ALUKON's range of colours.